A Chemise, c. 1865
Click on any image for a larger view!

A heavily embroidered white cotton yoked chemise, probably from the late 1860s. The chemise is in excellent condition. It's heavily starched and shows no signs of wear. It's possible that the chemise was used for a special occasion and put away. Whatever the reason, the chemise has been well taken care of and doesn't appear to have been used frequently.


The embroidery on the chemise is very a elaborate floral design. The yoke closes with three glass buttons.


A detail of the sleeve embroidery and the construction of the sleevew. The sleeves are one piece. The shaping is acheived through an angled seam, not gussets. The seams are reinforced by strips of fabric.
.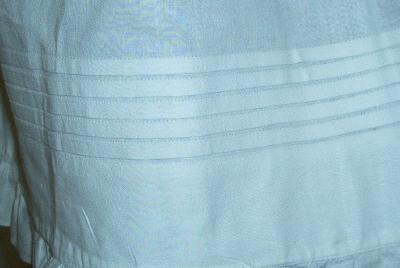 A detail of the tucks in the hem. These, along with the ruffle and facing, are used to add weight to the bottom so it hangs better. The ruffle is sandwiched between two layers of fabric. This facing goes up to the bottom of the bottom tuck. This can be seen in the picture, since the part with the facing is less sheer than the rest.

Inside views of the chemise. The yoke is a double layer of fabric. Only the top layer is embroidered. The body of the chemise is sewn between the two layers of the yoke. The sleeves are just one layer of fabric. On the right you can see the strips of fabric that are used to reinforce the sleeve seams.