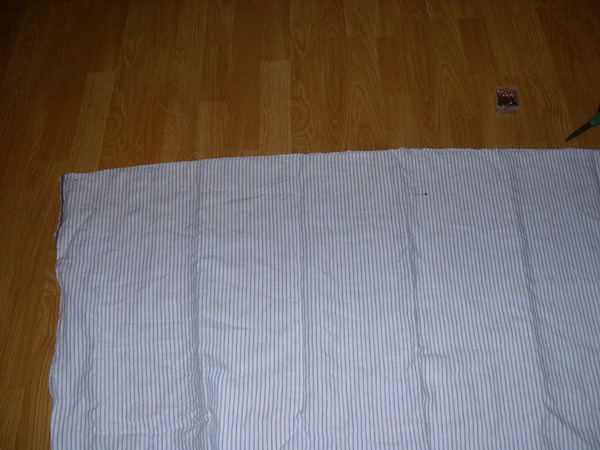 Next, mark for length. If your petticoat is going to be the same length all around, you can skip right to pleating. My example is a petticoat meant to go over pocket hoops.

To determine length, measure center front to floor, then measure over your skirt support to the floor. The difference between these two numbers is the difference you need in length. It will probably be a smaller difference than you expect! My waist to floor measurement was 38 inches in the center front, 42 inches over my side hoop. So I know I need to add 4 inches to compensate for the pocket hoops.

Then decide how long you want the petticoat to be in the center front. I want it to be rather short, so it's going to be 32 inches in front and then add 4 inches to the sides, so 36 inches at the sides.

Place a pin 32 inches up from the center front hem, and 36 inches up from the sides. Substituting your numbers, of course!

A petticoat over a bumroll is done the same way, only of course you measure the back as well as the hips, since your back length will be different as well. Just measure that distance at the center back of the petticoat.