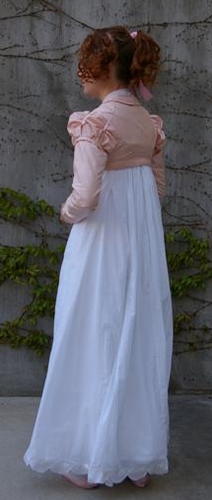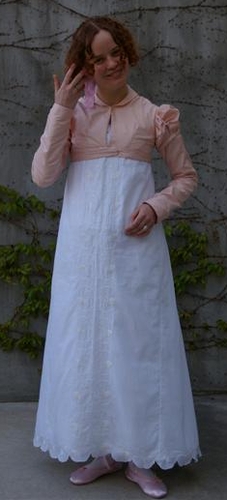 An embroidered Regency dress with a pink silk spencer, worn in the historic masquerade at Costume Con 23 in Ogden, Utah, and on Friday at Costume College 2005. The dress is embroidered by hand using tambour embroidery, French knots and satin stitches. The dress and everything worn with it is sewn by hand. I'm wearing it over the Mantua Maker pantalettes, Kannik's Korner shift, corded Regency corset based on my 1820-1840 corset, and a bodiced petticoat with a corded hem. The dress is made of Swiss muslin from Farmhouse Fabrics. The spencer is of pink silk taffeta from the Fabrics.net outlet.

The pattern for the dress is a shortened version of the 1820s ballgown bodice in The Cut of Women's Clothes. The seamlines match that of a Regency dress in Costume in Detail that I wanted to copy because the simple shape would work well under a spencer. The sleeves are from the 1806-1809 Frock in Patterns of Fashion 1 and the skirt is the 1815 skirt from Period Costume for Stage and Screen.

The pattern for the spencer is the 1815-1825 from Period Costume for Stage and Screen, the undersleeve is the same pattern as the dress sleeve, and the oversleeve is from the 1818-1823 Pelisse in Patterns of Fashion 1.

The dress closes in back with two drawstrings. The spencer closes with hooks and eyes at the neckline and waistline. The belt fastens with a pin.

I won best in class workmanship and documenation, master division and an honorable mention for presentation in the masquerade for this dress.