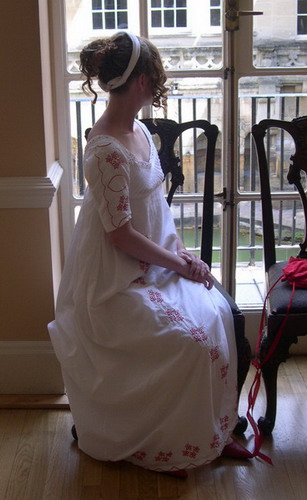 A copy of a dress in the Victoria and Albert Museum.

The dress is made of Swiss muslin from Farmhouse Fabrics. The bodice and sleeves are lined with medium weight linen and the rest of the dress is unlined.

The dress is embroidered with a combination of tambour, stem stitches, satin stitches and French knots. I used DMC floche which while it was very good for the regular embroidery, was a little soft for the tambour which made my stitches a little heavier than I'd like them to be.

I'm wearing the dress over a shift and a high waisted petticoat with straps to keep it up. I wanted to make a Regency dress that fit without a corset, and while this dress does fit, I've found that I like it much better with my 1790s stays, as can be seen in one of the pictures below.