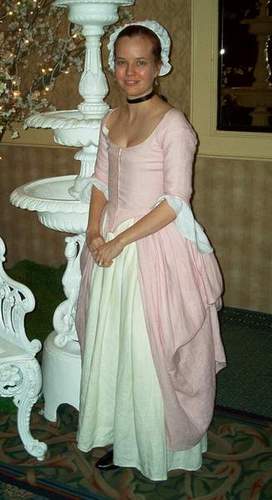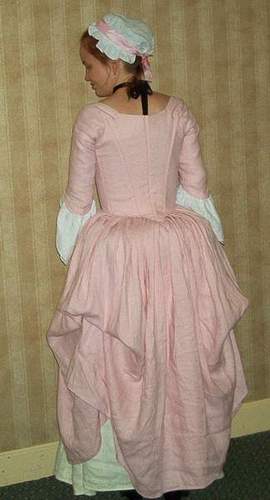 My late 18th Century Polonaise at the Time Traveller's Gala at Costume College 2003. It's made of pink linen and lined with cream linen. It's worn over a shift, blue and white linen underpetticoat, stays, bumroll, pocket, and cream linen petticoat. The sleeve flounces are detachable and, like the cap, made of handkerchief linen. It's pinned shut at the center front. Though quite invisible in the picture, I'm wearing reproduction earrings by Kate Johnson, and reproduction shoes from Fugawee. The cap is the Round Eared Cap by Kannik's Korner. All the linen is from fabrics-store.com. The ribbon around my neck and cap are from Wooded Hamlet.
The dress and accessories (except for the stays and bumroll) are entirely hand sewn. I bought the bumroll and a stays kit from the Silly Sisters.
The pattern for the bodice is on pages 37-39 of Patterns of Fashion. I used the pattern for the skirt from Gown #3, p 24-28 in Costume Close-Up. I liked that the hem was on the straight of grain, the way it was looped and that there were no pocket slits. The bottom of the bodice is finished, so to attach the skirt I folded the edges down, pleated them, and sewed the skirt to the bodice using a whipstitch.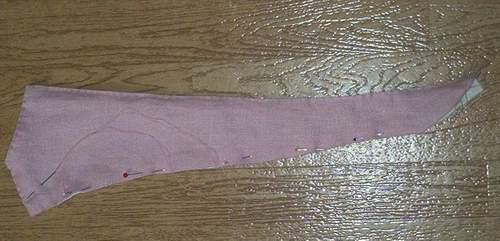 The first step was to sew each piece of the pink linen to the lining. The edges were turned under, and the pieces were sewn together using a running stitch.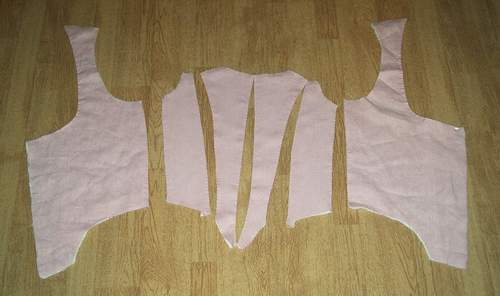 The completed pieces. I left the bottom edge unsewn at this point so I could have a little room to adjust the length if I needed to.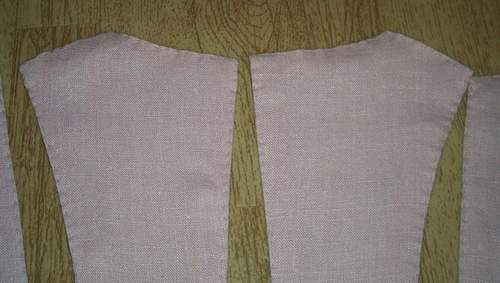 A detail of the center backe pieces, with the running stitches.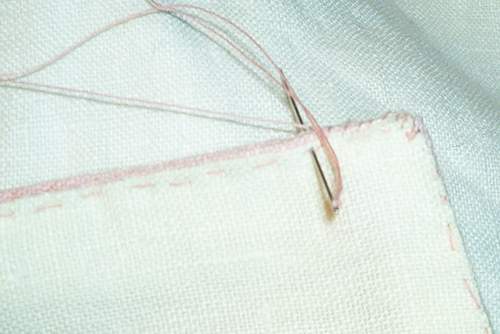 After all the pieces were completed, they were whipstiched together.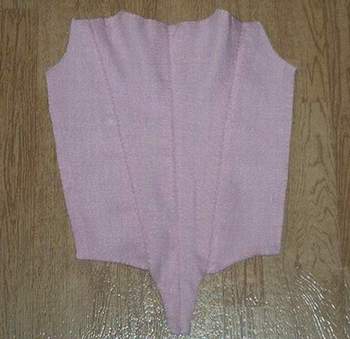 The completed back.