c1820 Ballgown Bodice
Click on any Picture for a Larger Picture!
The original owner of this bodice appears to have had a very fashionable figure. The underbust measures approximately 30", while the top measures approximately 39". Her actual measurements would have been smaller than this. The bodice closes with drawstrings and was gathered slightly when closed. Her right breast appears to have been larger than her left breast. The left dart measures 5" high and 1 3/4" inches wide. The right dart measures 4 1/4" high and 1 3/4" wide. The extra 3/4" inch makes quite a bit of extra room on the right side of the bodice. This is visible in the picture on the left. The dart on the picture's right (wearer's left) is quite straight and you can see a slight crease that extends to the neckline. The dart on the picture's left (wearer's right) doesn't have the same tension. The center front of the bodice measures 6 1/2".
The breast size difference is evident in the 3/4 view. The right side is clearly lower than the left. The back shows the gathers that form when the drawstring is closed. The bottom drawstring is missing, but the wrinkles from the gathering remain.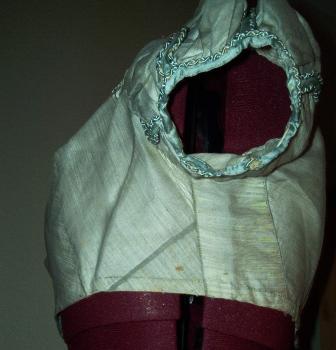 And the sleeve. The grainlines are clear in this photo. You can also see how well the bodice is pieced. The bias grainlines of the front match up perfectly. The side back and back are both cut on the straight grain. (The dark line above the piecing line is a crease in the fabric, not a seam.)

I'm lost! Take me all the way home!