Click for a larger image!

The bodice is shown over my hoop, bustle and early 1860s petticoat. Ideally, the petticoat front would be flat and the hoop would be elliptical, but I decided that the bodice would be better displayed over these underthings than just on my dressform. The bodice's approximate measurements are 32" in the bust and 21" in the waist. It's just a little too small for my dressform, the bottom button won't close. The front would hang straight down if shown over the proper hoop and if it could button! The bodice is boned with five whalebone stays. One is sewn into each dart, the fifth, which starts at the waist seam and goes to the trim, is sewn next to the buttons


The bodice is constructed like an early 1860s bodice with a peplum attaced at the waist. This peplum measures 8" in front, 11" in back and 3" at the side seam. The peplum is trimmed with a self-fabric bias-cut ruffle. The ruffle has been hemmed with the folded edge on the right side. There is a small watch pocket, with an opening at the waist seam, on the left side of the bodice. Bias cut blue ribbon follows the lines of the embroidered trim, which has the vertical emphasis which became popular in the mid to late 1860s.

Details of the sleeve. The sleeve is a basic 2-piece coat style, with a double puff at the armscye. The sleeve is lined with just the basic coat sleeve, the puffs are mounted on top of this. The coat sleeve is cut on the straight of grain and the puff is cut on the bias. The armscye is piped as well, to give added strength to the sleeve seam. This piping is covered by the trim.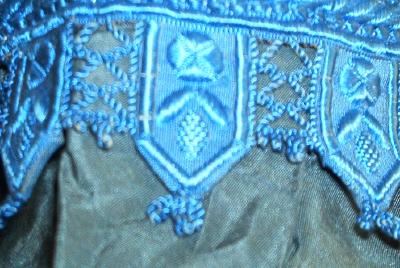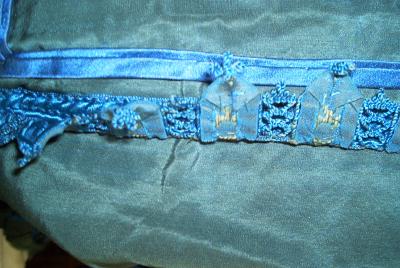 Details of the trim. It's made of ribbons that have been folded to form points and embroidered. Cording has been sewn between the ribbon designs. A folded bias strip of blue ribbon follows the lines of the trim.
The buttons are made of wood forms, covered with thread, and then a finely crocheted cover. Unfortunately, only five remain. There are twelve hand-sewn buttonholes.
Details of the peplum. The pleats have been sewn down to keep everything in place.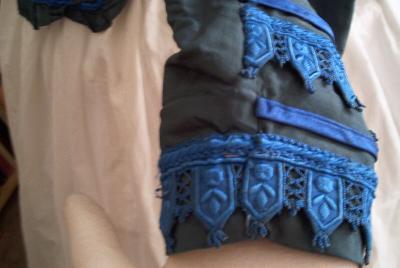 A detail of the cuff. One band of trim circles the entire cuff, while the upper rows of trim are only on the top piece of the coat sleeve.