Photos of Dresses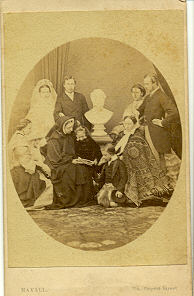 Queen Victoria and family, after the wedding of the Prince of Wales to Princess Alexandra in 1863, by Mayall, London. The picture is a little pale, but still a good view of Victoria's mourning and the shawl her daughter Princess Vicky, Crown Princess Frederick of Prussia is wearing is lovely.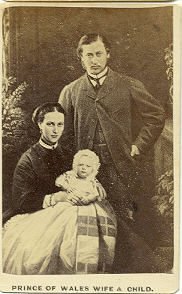 The Prince and Princess of Wales with their eldest son, Albert Victor, in 1864. Probably more notable for Edward's dress than Alexandra's, as she's mostly covered by the baby.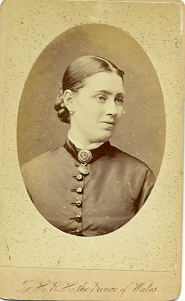 A CDV from around 1863 or 1864 by TC Turner, London. The collar on her dress is similar to that of Princess Alexandra's in the picture above. Her shoulder seams are only slightly dropped, (they actually are exactly where the shoulder seams ended up on my second 1860s day dress!) and the piping shows very clearly in the original. The dress closes with functional buttons. Her hair is styled in the nearly universal center part of the early 1860s. To H.R.H. the Prince of Wales is engraved under the picture. Possibly to commemorate his wedding in 1863 or first child in 1864?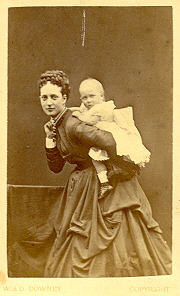 Princess Alexandra, 1867, with her daughter Louise by W&D Downey, Newcastle on Tyne. This was the most popular photograph ever sold in England. About 300,000 were printed (Helmet and Alison Gernsheim in Edward VII and Queen Alexandra). I bid on several copies on EBay before finally winning this one :) Alexandra wears the same high collar as before, she had a scar on her neck from an illness as a child and wore high collars or rows of diamond and pearl necklaces to cover this. Her looped up skirt buttons down the front, though her bodice doesn't appear to. She wears white undersleeves, not cuffs, a feature that shows up better in the original photograph.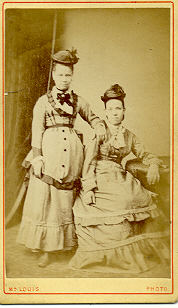 A CDV by Monsr Louis of London and Boulogne, early 1870s. I'm not very famliar with this period (though it is one of my favorites!) so if you have a better date, please let me know. The woman standing on the left appears to be pregnant. Both dresses have quite a bit of trim, which shows the influence of the sewing machine on clothing.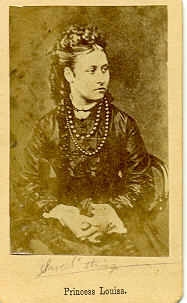 A CDV of Princess Louise, Queen Victoria's daughter, in 1871. "Sweet thing" written in pencil below her picture. Her dress is quite elaborate and shows the vertical lines now popular. Her shoulder seams are only barely diagonal, the front of the dress is trimmed with what appears to be self-fabric vertical ruching and her hairstyle is no longer low on the face.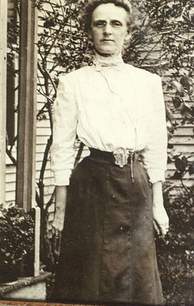 (click for larger image) My great-great grandmother (or my mother's mother's mother's mother) Annie B. MacDonald in the early 1900s. She's wearing a practical walking skirt and blouse with a very unpractical looking corset...
(click for larger image) The Lurveys. My grandmother's father's family in about 1906. Back Row: Harriet, Irwin. Middle Row: Irvin, Mable Lurvey (nee Nichols), Linza Bruce (my great-grandfather), Myron Bruce Lurvey Front Row: Orville, Behula. The children are dressed in fashionable sailor suits. Mable's dress is similar to my Edwardian dress. It closes to the side and has has tucking down the front shoulder.
Fashion Plates and Photos Home

Home, please