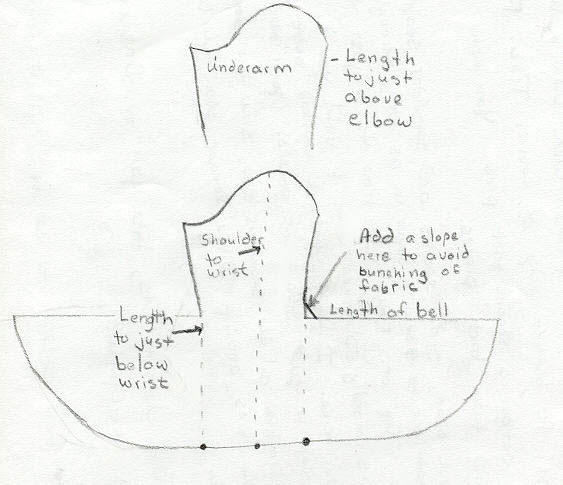 The Sleeves
The bell hangs best with a seam that goes down the back of the arm. The sleeve with the pattern has an underarm seam. An easy way to move the seam is to make a muslin of the sleeve, try it on and draw a line down the back of your arm where you want the sleeve to be. End the line about one inch above the elbow. This allows for free movement of your elbow inside the bell. Cut sleeve open down the line you drew. Cut off length below the line, making sure seamlines match. You don't want one seam longer than the other! Trace new sleeve pattern, and add seam allowances to the new seamline

To make the bell, first decide how long you want it to be. Mine is 16 inches. Draw a line at a right angle from the bottom of the upper portion of the sleeve to match this measurement.

Next, determine your measurement from the shoulder to just below your wrist. Add 1/2" to this measurement for a seam allowance. Draw a line equal to this measurement down from the center of the sleeve cap. Extend sleeve seams to match the length of this line (dotted lines on drawing). Draw a straight line through the ends of these lines. This makes it so the sleeve isn't too long over your wrist.

Then, on one side, draw a curve attaching the end of this line to the end of the line marking the bell. Then fold the sleeve in half, matching the seam lines. Trace shape of the bell.

Sewing the seam between the upper arm and bell at a right angle causes bunching. To prevent this, draw a line from the side seam to the bell seam. It should be about an inch up the side seam and an inch over on the bell seam. This makes a slope which prevents bunching.

I found that the sleeve cap was a little too steep-it was more gathered than I wanted it to be. To fix this, I just trimmed a little off the top.

Sew the sleeve seam, gather the sleeve cap and sew to bodice. Check fit. If you're happy, you're ready to make the pattern for the coat!