My Edwardian Corset
From Period Costume for Stage and Screen by Jean Hunnisett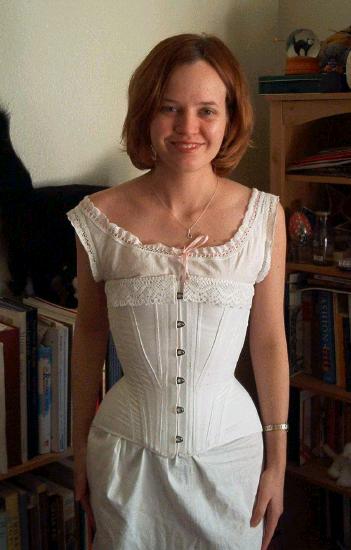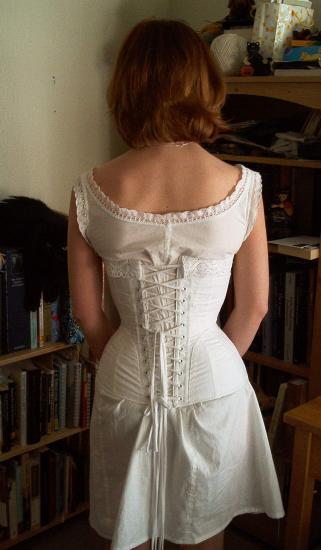 My second successful scaled up pattern! I decided to use the Period Costume for Stage and Screen pattern since no commercial patterns came in my size. To scale up the pattern I made a copy onto a transparency and enlarged it using the overhead projector at school (there has to be some benefit to teaching sixth grade English!). The corset is made from a single layer of corset coutil and I'm converted to single layer corsets now. The corset is so thin! The two bones on either side of the eyelets are spring steel, the rest are spiral steel bones that I cut and tipped myself, so they fit exactly. The hip piece is cut separately, which emphasizes the waist quite a bit! My natural waist measurement is 24 1/4" and my measurement in this corset is 23 1/2", so I'm not tightly laced at all!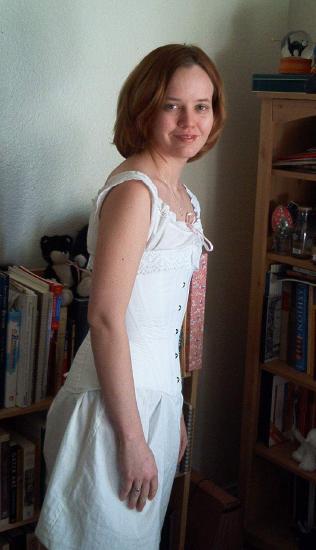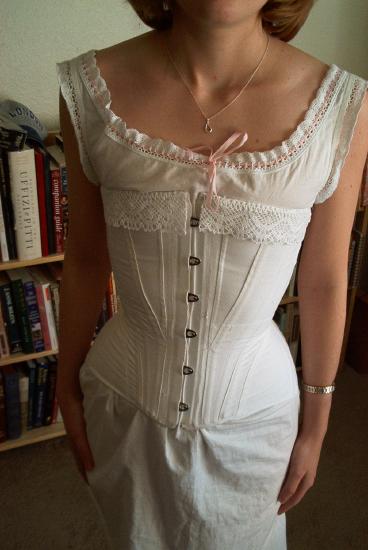 One of the most noticable features of Edwardian clothing is that women looked almost like they were about to tip over. The fashionable posture was thrust forward into an S-curve. The cut of this corset forces the body to do this. This is quite visible in the picture on the left. The picture on the right shows how the boning helps this. There are three bones between the busk and the curved hip seam, which, with the curved seams, help push everything in.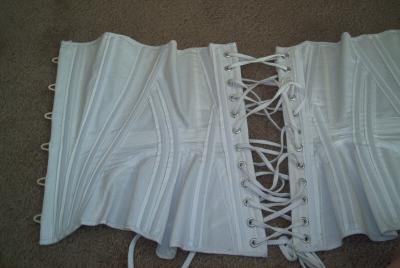 An inside picture of the finished corset, showing the boning. I would probably use boning tape instead of casings next time, since the casings were a little wider than I wanted them to be.