An Edwardian Corset, c. 1905
Click on any photo for a larger image
The basic front and back views. The corset was obviously well worn, but is overall in good condition. The lace is in very bad shape in places and only small pieces of the ribbon beading remain. There are a few small holes at the bottom edge, one bone casing has opened, and the busk has split the fabric at the top edge. The corset is made of a single layer of lightweight cotton. There are 14 steel bones on each side, for a total of 28 bones. The bone casings are sewn to the outside of the corset.
I only loosened the lacing, which appears to be original. The ends aren't tipped suggesting the lacing used to be longer. In its present state, it's not long enough to lace in the usual way with "handles" at the waist.
The 3/4 views. These show how the corset would lie under the bust. A small woman would use the chemise for additional support, a larger woman could use a bust bodice.
A closeup of the eyelets and the "rust proof" busk. The condition of the lace is very visible in these photos.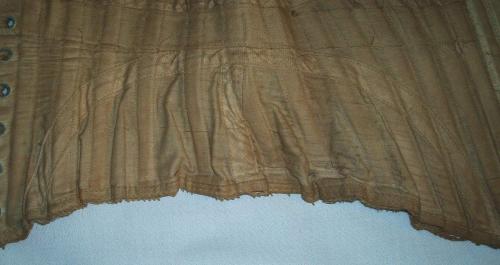 A detail of the construction. The bias tape covers the hip seam. The hip was cut as two curved pieces, a style which gives the waist a pinched in look.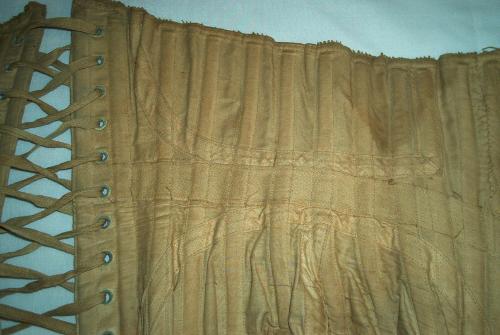 The top of the corset, with a similar curved section to add width to the bust.

Home Please!