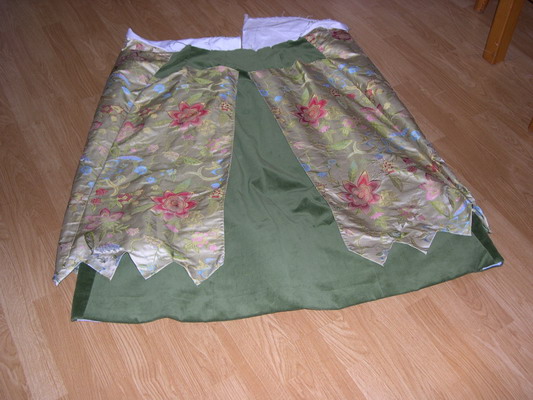 The base of the skirt. You can see the basic skirt shape and how the damask overskirt is attached. I didn't attach it at waist level, both to avoid bulk and to avoid using fabric where it wasn't needed. This meant that when I draped the overskirt, I had to be sure to cover any areas that the damask didn't cover.

Since the entire back of the skirt was covered, there's only a strip of velveteen around the hem. I accidentially put it on upside down as can be seen in the picture, but since this was going to be covered with pleats and was just there in case the pleats fixed up, it wasn't a problem.

To shape the damask hem, I cut slits down the middle of each triangle and folded the fabric back and sewed it into place. This makes a nice clean edge without much fiddling.

The hem is faced with a layer of stiff crinoline to help the heavy skirt keep its shape.