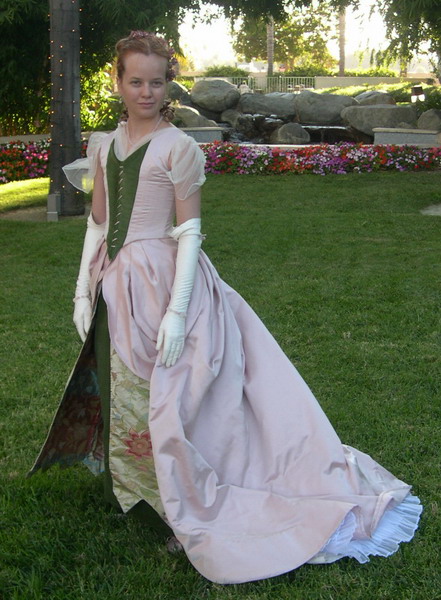 A silk satin, silk damask, silk net and cotton velveteen ballgown. The bodice pattern is an adapted version of my 1880 bustle bodice pattern . The skirt started out with the Truly Victorian 1880s underskirt as a base, but I heavily modified it--including adding a built in bustle.

I'm wearing it over my spoon busk Silverado Laughing Moon corset, Truly Victorian petticoat and Mantua Maker combinations.

The skirt is the most complicated part of the dress. All layers are attached to one waistband. There's a foundation skirt of cotton sateen with three rows of steel boning and a bustle pad in back. The front panel is made in green velveteen. There's also band of green velveteen around the hem, which is then covered by silk satin pleats. The gold brocade is attached over the velveteen, just little below waist level. Next, the gold silk brocade. Over all that is the front drapery, then the back train.