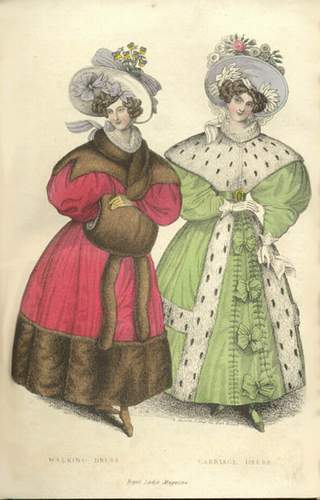 Fashions
Parisian Fashions
&nbsp Of all changeable things, fashion is perhaps the most changeable. There ought to be, in those who follow fashion, a natural taste, which study rarely confers, and which mere wealth cannot bestow.
&nbsp A female on her entrance into the beau monde, if she has not been endowed with native elegance, has much to acquire. It is of little avail that she is enabled to expend 20,000 francs a-year upon her toilet, there must be that attractive ensemble which proclaims the woman of good taste-there must be no display which outrages the authority of fashion. The manner of throwing on or off a shawl, the placing a hat gracefully, but without any appearance of affectation, the step-the gesture-the mode of expression-these are the minutiae, which language would vainly attempt to define.
&nbsp The shape of the hats are now fixed for the season; they vary only in the ornaments, which are themselves liable to variation. THe fronts are more open, and larger than they have lately been; they admit more of the face and hair to be seen, but at the same time are not so upright as they have been worn for these two last years; they are a medium between those shapes and those of the tuyau de paille of last season.
&nbsp Velvet is the most becoming material for hats worn during the day; with an evening dress they are quite elegant enough; and with an undress they have nothing displeasing.
&nbsp To sustain the noeuds of gauze, which have a tendency to fall down, they use a species of velvet cornets, which contain the noeuds. If the hat is lined with colored velvet, the cornets must be so likewise.
&nbsp We observe fewer hats trimmed with white blonde than during the summer season: the black blonde is the most prevalent. But few flowers are worn on hats for the demi-toilette. For walking, and in the street, flowers have an ill effect.
&nbsp Satin lined with plush makes a pretty morning hat. Where variety is studied, or what you may wish to diversify the materials, you may in this respect consult your own taste. A plush hat may be lined with velvet, or a velvet hat may be lined with plush, and satin indifferently with either. There are very pretty ribbons of gauze satinee, which produce a very pleasing effect upon hats.
&nbsp The velvet berets are perhaps somewhat too heavy, and have not so elegant an appearance as those made in crape or gauze. As a negligee evening headdress, caps of blonde with flowers is by far the most becoming for the face. The front is a single high border, turned upwards; the flowers placed against the hair.
Robes
&nbsp In the form of these there is nothing of novelty introduced. The corsage plain and buttoned in front; a band of velvet commences from the elevation of the shoulder, and crossed under the belt. The upper part about the breadth of the and, and diminishing to half that size at the end.
&nbsp The Sevignees, or crossed draperies, is the form most employed for evening dresses. For silk robes, in full dress, a revers of velvet is placed upon the corsage and falls back upon the shoulders en jockies, with four points. This has a very pleasing effect when in any material of a light colour; the points are edged with white blonde, the long sleeves are also composed of white blonde. When on a velvet dress the points are finished by a trimming of black blonde.
&nbsp Satin dresses are worn both for morning and evening costume.
&nbsp Pelerines of velvet, cloth, or plush, are still generally worn.
Morning Dresses
&nbsp A redingote of dark green cachemire, belt and sautoir of emerald-green velvet. Cap of tulle with one border very much elevated. The noeuds edged all round with narrow lace: an enamelled watch suspended by a short enamel chain; gloves, peau de Suede; shoes, iron-gray kid. A redingote of chestnut gros de Naples, corsage plain, buttoned in front. The hair turned up in a single curl, the ends en papillotes. Collerette of muslin trimmed with lace in several small pipes. A bow of celestial blue velvet confines it at the throat. An apron of gros de Naples of Haite blue, deeply vandyked round the edge. Shoes, black gros de Naples.
Walking Dresses
&nbsp High dress of black velvet; corsage plain. Pelerine of velvet trimmed with blonde. White plush hat, with two white plumes. Boa and muff of light gray fur. A short matted gold chain with gold scent-bottle appended. Boots furred. Gray gloves. A dress of plain black satin, lace collerette. Mantle of deep blue cachimire; the pelerine of blue velvet, with lining of the same; square falling collar of blue velvet, edged with black blonde. Black satin hate richly ornamented with blonde and gauze ribbon. Boots, gros de Naples.
Evening Dress
&nbsp A robe of hyacinth velvet, ornamented above the hem with a satin ribbon, round which black blonde is twisted. Corsage a la Sevignee,with sleeves of black blonde. Black blonde is also tastefully intermingled with the bows of the hair; ornaments of gold or pearls. Black satin shoes. White gloves. Robe of white satin, bordered above the hem with a trimming of toucan feathers. These feathers bear a close resemblance to fur, from their extreme shortness. They are red and yellow. Corsage rather high, which is ornamented, as is the skirt, withBrandenbourgs in matted silver. Gauze bows of red and yellow are mingled with the plumes of the head-dress. Black satin shoes. White gloves.
&nbsp We are totally without novelty in dress. The state of the public mind precludes all idea of festivity, and the timid are reluctant to appear abroad. The chief novelties are in morning and walking dresses; the latter are, without exception, trimmed lavishly with furs of various kinds; ermine, and a red brown fur prevail. Cape and even collars, to dresses of cloth or silk, are very general: the capes are not simply round, but as variously formed as those of silk wore in summer, even to vandyke edges and cut shoulders. Hats mostly of silk, and, spite of the weather, flowers still continue to be worn by those who, in troublesome times, choose to move about.-Paris, Dec. 26.
English Fashions
Walking Dress
&nbsp Hat of lilac, satin, lined with white, and ornamented under the brim with two bows of narrow lilac gauze ribbon; also at the back, with very wide ribbon of the same, and a bouquet of heart's-ease. Dress of crimson gros de Naples, trimmed with a deep fur of marte Zibeline: around the neck a collerette of lace. Cape, which is cut into points at the shoulders, boa, and muff, are of the same fur as the trimming.
Carriage Dress
&nbsp Hat of white satin, lined with lilac, and ornamented inside with white gauze ribbon cut in vandykes; the back tastefully trimmed with blonde and flowers. Pelisse of pea-green gros de Naples, fastened in front with four bows of the same material: cape of ermine fur, which is fastened inside the belt. Two rows of narrow ermine trim the front of this pelisse, so as to form what is called le tablier, and another of the same width nearly surrounds the skirt above the hem; manchettes of fine cambric embroidered in vandykes. Belt of the same material as the pelisse; brooch and buckle of pale silver: boots of pea-green prunella.
Opera Dress
&nbsp Hat of pale blue tulle, rather low on the left side, and ornamented over that side of the brim with rich gauze ribbon; on the right side, which is much more raised, are placed white ostrich feathers, under the brim, and fastened by a gauze ribbon crossed over the forehead. A dress of blue gauze arranged in full folds over the bosom, and fastened in the center by an emerald Sevigne. Around the bust a quilling of narrow blonde; rich figured blonde sleeves, fastened at the wrists with handsome worked gold bracelets. Cloak of olive black levantine silk, lined with white gros de Naples A very deep cape, cut in vandykes, and edged with rich fringe of the same colour: a small falling collar, cut also in vandykes, and edged with fringe.
Evening Dress
&nbsp Hat of rich plum coloured velvet, very broad on the right side, where it is ornamented under the brim with white gauze ribbon, cut in vandykes: it narrows to the left side, which has scarcely any brim, and is ornamented fully with three white ostrich feathers, tastefully disposed. Dress of pink gros des Indes, or gros d'liver. The corsage arranged in folds, and made to cross from right to left; cape epaulettes of the same material as the dress, cut in vandykes, from beneath which appears an ornament composed of satin and gauze, formed by a square piece, one end of which is cut into three or four long points; and the other end, which is fastened under the fall, is gathered and drawn. Around the bust a quilling of narrow blond; very wide sleeves, composed of white tulle, over lesser ones of white satin: at the knees is a fall with larger vandykes, connected by a circular cut, but, in other respects, corresponding with the cape and epaulettes. The ornament, as well as the vandyke, are on a larger scale; and on the left side a double ornament is placed above the fall, with the points upwards. The brooches, buckles, and bracelets, are of real stones, or enamelled in colours. Both the cape epaulettes and the trimming at the knees are varied in form; but some rich trimming is invariably used to project from under the falls.