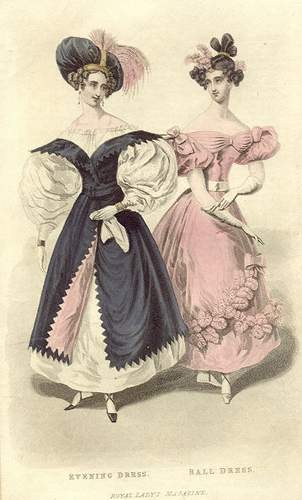 Fashions
Parisian Fashions
&nbsp A strange revolution has taken place this winter in the assemblies at Paris. While the French soirees are remarkable for nothing, save their dulness and insipidity; Pleasure, with her brilliant train, music, dancing, with, and mirth, has taken refuge in the splendid parties of the English. The galanterie, on which the young diplomatists of France so long and so justly prided themselves, seems abandoned entirely to the spirited and generous sons of Albion. A splendid ball was given last week by six young Englishmen, who, wishing at once to gratify their own taste, and to prove their devotion to the fair, united in this brilliant assembly all that pleased themselves, and all that could delight their guests. It was a most exquisite assemblage of joys peculiar to some, and of pleasures common to all. A charming variety of modes of worship in one temple, of which every pretty woman might consider herself a divinity. This fete was admirably planned and ably executed. The cavaliers, who presided, were distinguished by a blue ribbon: the devoted gallantry of former days seemed to revive; the ball was animated, brilliant, and numerously attended; and we were indebted to it for an opportunity of seeing some elegant dresses, which, for the sake of our fair readers, we will describe. One, with which we were much pleased, was made of jonquil-coloured crape; above the hem a little Gothic pattern was embroidered in small garnets; the waist-ribbon was embroidered in the same manner, and ended with two large tassels; a small cord composed of garnets was placed round the bodices, and was very becoming to the neck. With this new and striking dress a necklace was worn, and a plume of white feathers formed the coiffure. We remarked several dresses of blue crape, trimmed with bunches of white flowers, placed diagonally along the front of the skirt, and one large bouquet above the knee. Crape dresses of different colors were generally ornamented in this style. White gauze dresses, with long sleeves made of blonde, and quilled round the wrist, with a deep fall of blonde over the back and shoulders; and the corsage composed of large folds crossing each other over the bust, produced a chaste and elegant effect. No ornament was worn with this costume but a sevigne or handsome brooch, to fasten the drapery of the corsage in the centre; and any fashionable coiffure looked well with it. We did not see many berets' hats turned up in front with plumes of feathers seem to have superseded them; these hats have fronts nearly as large as in those made for the promenade-they are turned up more on the right side than on the left, and are seldom without feathers. One of black velvet, with a large plume of pink feathers, was much admired; as was, also, a pink satin, with a plume of white marabouts. Velvet dresses of all colours are much worn; but black seems to predominate' and these have large sleeves of black blonde. Turbans, made of gauzes of different colours, are very fashionable; white and brown, sprigged with silver, cherry-coloured and vapeur, pink and white: they are worn very large and broad. A new coiffure has been adopted by, and seems to be a favourite with some of the elegantes of Paris; it is called a la Minerve; it is composed of three long vertical feathers, placed at the back of the head; they flow, with the hair, through a species of helmet; and a tiara of jewels completes this classical coiffure. Blonde gauze is generally worn instead of blonde; short scarfs of this material are general at balls. For the promenade, hats made of satin, and lined with velvet, are fashionable; but velvet are in the best taste: flowers are quite abandoned-feathers, but more generally handsome ribbons, are worn with hats of plush, velvet, and satin: the fronts are very open-a little broader on the right side than on the left, and the crowns very low. A species of cut velvet velours epingle, is recherche, and in dark colours, looks very well for hats. In morning dresses, we have nothing very new; redingotes, fastened up the middle, and some folding over on one side, are still general. Merino dresses are much worn for out-door costume, under ample cloaks of the richest materials. The pelisses which are worn over dresses are generally made of crimson and brown. Ruffs of quilled net, and falling collars, of a square form, handsomely embroidered, are a la mode. A small handkerchief, of pink gauze, is worn with a blonde cap, and tied in a bow under the chin; the front is ornamented with roses, placed amid the folds of blonde and the hair. Blonde caps are generally made, so as to allow the bows of hair and the comb to be uncovered. There is nothing new in the general style of coiffure en chevaux; the hair parted very much on one side of the forehead, and arranged in high fall-curls, with large bows behind, still seems the favourite fashion; but we may hope for a little variety, for we perceived among the most fashionable elegantes aux Italians, some ladies coiffe a la Judith; that is to say, with a profusion of ringlets, which fell on the shoulders, and formed a striking and graceful contrast with the formal head-dresses now so general. Dresses of gold and silver lama will be much worn, if some brilliant balls give our belles an opportunity of displaying their taste and magnificence.
&nbsp Pocket-handkerchiefs are universally embroidered en guirlande, above the hem. Ruffs, fully quilled, are very general in-doors. For a full-dress a bouquet is indispensable, a bunch of violets or perhaps different flowers-they are as general in artificial as natural flowers. Black blond is almost universally worn with satins of al colours. Raffles for the benefit of the poor, constantly take place in the salons of Paris. Several officers, on their return from Africa, have brought with them de la sapinette d'Alger (a species of fir), which our florists are endeavouring to imitate-branches of it will decorate hats, and sprigs be worn with full-dress caps. Wreaths of flowers, called chapeaux (from the orange wreath being called chapeau de las Mariee, are seen in all brilliant assemblies; one made of oak-leaves, with acorns of gold and green enamel, looked very well with jet-black hair. These chaplets, or as they are called, chapeaux, are becoming universal at balls-they are placed a little on one side. A beautiful English blonde was much admired in one of these chapeaux, the ornaments were sprigs of coral.
&nbsp The halls of all the first houses at Paris, are decorated with orange-trees and camelias; stoves are judiciously placed, to keep up a degree of warmth necessary to their preservation. At a soiree, recently given by one of the ministers, there was a raffle for a quantity of fancy-works, made by the female nobility of Paris; there were some which, it is said, the Queen of the French, herself had condescended to make and offer. Several young ladies of the first rank, presented each other as etrennes (or new-year's gifts), with aprons of the richest gros-de-Naples, which they had embroidered all round, with a large wreath of flowers in coloured silks, and a handsome bouquet of the same on each pocket. The handsomest and most fashionable cloaks are made of scarlet casimir, profusely trimmed with ermine.
&nbsp It is said that boas were going out, but we seldom see an elegante without one. After all, there is little new or worthy of notice. Fashion, like a deposed sovereign, is still endeavouring to rouse her former partisans, but they seem little inclined to pay her the homage which she has been so long accustomed from her favoured daughters of France. At the ball, at the play, they are all Sans facon-Entre soi. And even at the opera (Oh! that this should ever be), if Fashion is there, she is concealed in a large mantle, or an undress capote. Still, some balls are talked of. At some recent receptions the queen and the princesses were more richly attired than is their wont; and we hope at the coming assemblies to trace something worthy of notice; as full trimming seem banished for ever, we hope to see the plainest dresses richly embroidered above the knee in silk, and in gold or silver for those of more costly materials. We may hint at dead and bright gold wrought on white crape. Silver on pink gauze; jewels, feathers, flowers, any thing rather than a plain dress, and a tortoise-shell comb in the hair. &nbsp We cannot bear to hear the animated little milliners and couturieres of Paris who used so joyously to announce the death of one fashion, in order to introduce another, and who exclaimed with such playful espieglerie "La mode est morte, vive la mode!" now sighing over the unpurchased offspring of their ingenious tastes, exclaim, "La mode set morte!" and nothing more. It is not well in the daughters of France to banish a queen to whom they owe so much, we had almost said all; but if, by their neglect, they drive her from her chosen realm, welcome her to England my lovely countrywomen, first in form and face, why not be first in all that adds ne lustre to the splendid gifts of nature? Why follow when you are born to lead? Why imitate, when you have heads to plan and are blessed (beyond all the females of Europe) with means to execute? Receive the varying and fickle goddess; let judgment be her counsellor, and insist on her accepting two English handmaids, Modesty and Decorum: then fear not to follow her through all her mazes and wanderings; make offerings at her shrine, proportioned to your means. In her former realm she did much with little aid; but here, with nature for her assistant, what may she not effect. The day when her edict shall be published at St. James's is at hand, if not already arrived, we venture to predict that the first drawing-room of our gracious Queen will complete the revolution of Paris.
Morning at Home Dress.
&nbsp 1. Cap a la Marie Stuart of pink silk, handsomely edged with scollop-shell blonde. Robe a la vierge of pink batiste; sleeves very full at the shoulder, and tight from the wrist to the elbow; apron of gros de Naples, the folding of the bodices is very graceful, crossing from right to left; two large scollops form the epaulettes, which, with the corsage, the front and the pockets, are handsomely vandyked. Hair a la Sontag; embroidered slippers.
Walking Dresses.
&nbsp 2. Pelisse of rich brown gros de Naples; the corsage is made of regular plaits, or folds, crossing from right to left, confined by the belt. Chemisette, surmounted by a ruff:-the sleeves are confined from the wrist to the elbow by small bands, and are very full on the shoulder. Hat of the form called capote, lined with white satin, and handsomely trimmed with brown ribbon of gauze satin. Black kid bottines.
&nbsp 3. Elegant bonnet of green velvet. High dress of crimson merino; standing ruff of quilled net.
Morning Dresses.
&nbsp 4. Beret of crimson velvet. Hair, arranged in two bows on the forehead, parted by a gold brooch. Dress of pale blue merino-short sleeves:-black mittens:-chemisette, with one frill standing, confined by a velvet sautoir, and two falling collars-(the form of this dress is peculiarly adapted to very young people). Apron of flowered silk, trimmed with black fringe.
&nbsp 5. Beret of flowered cashmere; high dress of ditto; fichu of barege, ruff of clear muslin; apron of black gros-des-Indes; pantofles of black kid.
English Fashions
Evening of dinner Dress.
&nbsp An elegant robe of black or purple velvet, lined with satin; the corsage is of the most chaste and simple form (which is particularly desireable, when the materials of which the dress is made are rich)' a falling collar, handsomely vandyked, and sloping from the shoulder to the bust, gives a peculiar grace to the figure; the skirts of the robe are vandyked to correspond. The robe is worn over a dress of the richest satin, and of the simplest form. A chemisette a la vierge of blond, and very full sleeves sloped to the wrist, of the same material. A handsome toque of black or purple velvet, surmounted by a Bird of Paradise feather, and looped in the centre by a gold or silver band and splendid agraffe. The hair is parted on the forehead, and arranged in full curls on either side of the face. Ear-rings, chain, buckle and bracelets of highly-wrought silver (now a-la-mode, white silk stockings, and satin shoes.
Ball Dress.
&nbsp Dress of pink crape, over white satin; the corsage plain, with full folds from the shoulder across the bust, confined in the center by a small agraffe; full short sleeves-handsome shoulder-knots of broad ribbon; a bow of the same description is placed above the right knee; a wreath of marabout feathers are placed at a short distance from the bottom of the dress, and meet, en feston in the centre; the wreath continues its graceful curve, till it comes in contact with the bow above the knee. The hair, arranged on the forehead in full curls-in the center, an agraffe; the back hair, in three high bows, confined by a band of pearls:-plumes of small feathers, to correspond with those festooning the dress, are gracefully placed on either side of the head-and add to the charms of elegance, those of novelty. Shoes, of pink gros de Naples.